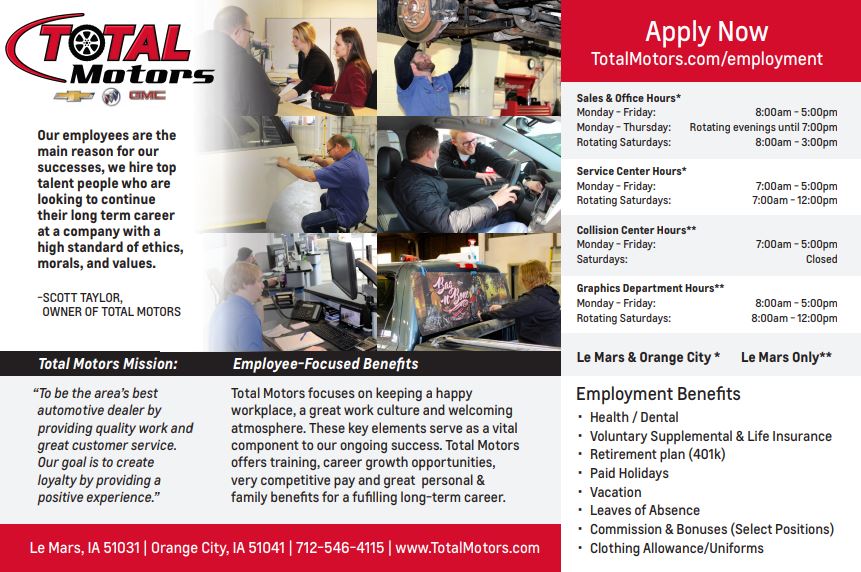 View our current open positions at Total Motors and fill out our online application today. Stop in or call us with any questions you may have.
3 Open Job Listings
Posted: 4/25/2019 - Ends: 1/1/2021
Are you looking for your next career? Fill out our General application today! Our employees are the main reason for our successes, we hire top talent people who are looking to begin their long term career at a company with a high standard of ethics, morals, and values. See why, "Our People Make the Difference!" If we aren't currently hiring for you desired position we will keep your resume on file for future dates. FULL-TIME EMPLOYEE BENEFITS: Competitive Compensation • Health/Dental • Vision • Voluntary Supplemental & Life Insurance • 401K • Paid Holidays • Vacation • Leaves of Absence • Commission & Bonuses (Select Positions) • Uniforms/Clothing Allowance A pre-employment drug screen is required for all jobs. Total Motors is an equal opportunity employer. All duties and requirements are essential job functions. All requirements are subject to possible modification to reasonably accommodate individuals with disabilities. It will be handled on a case-by-case basis. This job description in no way states or implies that these are the only duties to be performed by the employee occupying this position. Employees will be required to follow any other job-related instructions and to perform any other-job related duties requested by their manager.
Apply For
Careers at Total Motors Online
Automotive Service Technician (Le Mars, Iowa)
Posted: 3/1/2019 - Ends: 1/1/2021
Total Motors is hiring for an automotive service technician in their Le Mars, IA location. Like to know more about the position? Email hr@totalmotors.com for job descriptions. Pay: Depends on Experience Job Type: Full-time Benefits: Yes If your interested please fill out an application for job specific and details.
Apply For
Automotive Service Technician (Le Mars, Iowa) Online
Automotive Sales Consultant [Le Mars, Iowa]
Posted: 3/1/2019 - Ends: 1/1/2021
Position: Sales Consultant Full-Time Location: Le Mars, Iowa Pay: $3,000/month (3 month guarantee) Brief Description: Must have a strong knowledge of the automobile industry and area market. Be enthusiastic and maintain a high level of energy. Possess extensive computer skills along with interpersonal & communication skills. Must have the ability and flexibility to work extended hours, evenings and weekends to achieve their goals. Email resume to hr@totalmotors.com, or to ask for complete job description.
Apply For
Automotive Sales Consultant [Le Mars, Iowa] Online